Hawzah News Agency - Ramadan is the holiest month in Islamic Calendar, and fasting is an important element of the month, with Muslims abstaining from eating or drinking from dawn until sunset during the month. It should be mentioned here that the month is also a spiritual time with a focus on charity, fasting, and good deeds.
The Islamic Calendar is lunar, and hence, during the month of Ramadan, it won't officially begin until the moon sighting. The end of Ramadan would be marked by spotting of the new moon, which implies that Muslims would either fast 29 to 30 days with days long festival marking Eid Al Fitr, which would be in July.
Ramadan in Qatar
Eating and drinking in public
When Ramadan begins, it is illegal for adults to have food or drink beverages in public during the fasting day. This also means that there should be no gum-chewing or cigarette smoking, and those who risk would be fined. But, for those who are not fasting (non-Muslims and Muslims who are ill, pregnant women, breastfeeding, or menstruating), eating at work may be tricky. While some offices have designated spots like the lunchroom, others may have to eat at home after their workday is over. It should be noted that most restaurants and shops are closed during Ramadan, except for some takeaway services.
Shorter workdays
Irrespective of your religion, Qatar law mandates shortened workdays for residents during Ramadan. For the public sector including government ministries and other public institutions, this implies five hours a day work, from 9 am to 2 pm. Those working in the private sector should have their schedules shortened from eight hours a day to six hours. But, not all employees are given shorter workdays, due to the difference like their work. In such cases, they are usually entitled to overtime compensation or additional time off.
No alcohol served
Muslims are prohibited from drinking alcohol, and although Qatar sells it in a limited fashion most of the year, the country goes dry during Ramadan.
Charity
Charity is an important aspect of Islamic beliefs, as deeds are believed to be multiplied during the month of Ramadan. Therefore, Muslims focus on good deeds and sharing with the community. Apart from boosting some spirituality, attending special night prayers at the Mosques, Muslims increase their charitable activities during Ramadan. Helping out by volunteering or contributing to people in need is considered good for you and those around you. In Doha all get involved in the act of feeding others, irrespective of religion. Local charities and individuals host Iftar tents to provide laborers and those in need with food to break their fasts. Expat communities make Iftar food packs and distribute snacks and supplies to laborers.
The flip side of fasting
Given that Ramadan involves fasting for at least 15 hours a day, and taking into account that this is happening during the summer months when it is very hot outside, people may sometimes have to bear the brunt of being on an empty stomach. For example, tempers run high, some people drive poorly around iftar time to meet family or friends and breakfasts together, etc. Moreover, Ramadan is also a time when health officials constantly remind people, not to overindulge in food, and try to get adequate sleep.
Entertainment activities
As the day is mostly quite due to fasting, the evening and night will see a lot of activities happening around in Qatar. Most restaurants usually remain open late, with hotels having lavish iftar and suhoor buffets, Heavy traffic is likely at night (8 pm to midnight) when people go out to shop, eat and run errands. Some unique celebrations to be mentioned here are sunset canon at State Mosque, pre-iftar Corniche car parade, and Garangao festivities.
The cultural traditions here provide infinite entertainment to families and the Corniche Car Parade is one among them. There will also be Ramadan events in many public venues and local malls in Qatar. The occasion of cannon being fired at the national Wahhab Mosque in old Airport area has also turned into a festive event, with army officials offering treats to younger children.
Garangao
The Children festival of Garangao occurs in the middle of Ramadan. This is a unique Qatari tradition wherein local children dress up in bright traditional clothing, and head out to neighborhood singing the Garangao song and receive nuts and sweets from elders. This event is getting bigger with local children participating in festivities across Doha and Qatar.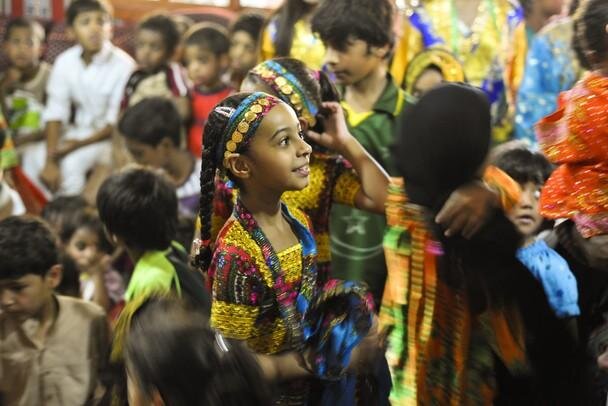 Local hotels get involved in Ramadan tents for Iftar and Suhoor Buffets, as these display variety of cuisines and live cooking stations. They are similar to Friday brunches, but, there is improved focus on regional dishes and entertainment. If you happen to visit Qatar during Ramadan, do visit an iftar tent. These tents are put up during Ramadan, and they offer generous spreads for iftar and suhoor, with swathes of silk, personalized service, and delicious Arabian and international delicacies, with live cooking stations in every corner of the room. You can also notice private majlis or gathering area with a flat-screen TV. This way, you would be introduced to the traditions and customs of modern Arabia.
Garangao On the 14th day of Ramadan, they celebrate Garangao, a fun tradition for children. It's a way to celebrate their efforts in fasting halfway through the holy month. The word comes from "Gara", a Khaliji word for the sound of things knocking together.
During Garangao, after the sunset prayer, children dress up in their traditional clothes, carry a decorated material bag, and walk around their neighborhoods singing the Garangao song, hitting stones together to create a rhythm. In the past they were given dates, rice, and wheat, the ingredients used for a traditional Qatari dish called Harees, but nowadays children usually receive nuts and sweets.
AL NAFLA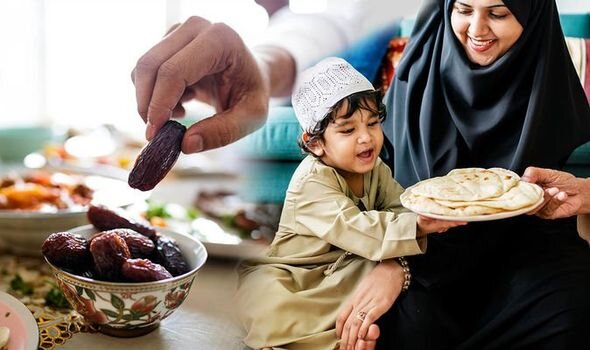 Two weeks before the start of the holy month, in the middle of Sha'ban (the 14th day of the Hijri calendar) they celebrate Al Nafla.
Al Nafla is based on the act of giving and sharing. Families gather to prepare traditional food; mothers arrange delicious welcoming platters while children watch on. The food is distributed among their neighbors and to the poor. While cooking for Naflah, they also start to prepare the food and ingredient staples for the month of Ramadan and are reminded of the rewards and blessings associated with the coming month.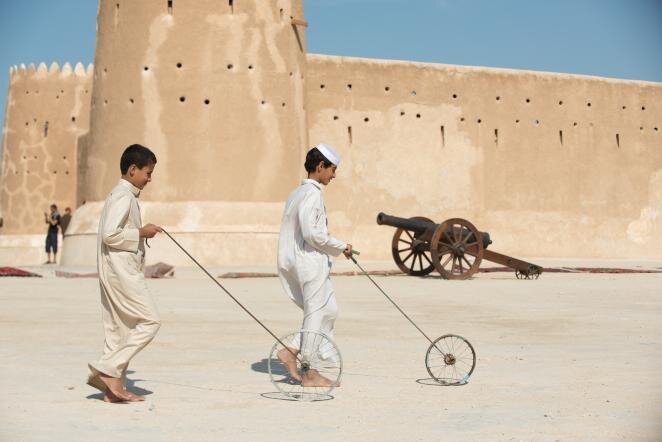 Ramadan canon
Traditionally, the end of the fast at sunset would be marked by the firing of a canon, so that even those away from town would be able to hear the signal and know that it was time to break the fast. they still carry on this tradition ceremoniously today, and it's broadcast live on Qatar TV as an indication of the end of the day's fast.