Hawzah News Agency – Partway up Mount Bugak, in northeastern Seoul's serene Seongbuk-dong, stands a small Buddhist site named Gilsang Temple. Since its establishment in 1997, the temple has come to represent religious harmony. There, Buddhists and interdenominational Christians mingle and work together on joint projects to help the poorest of the poor in the community.
According to the temple's official, the temple formed a partnership with Seongbuk Catholic Church and Ducksoo Presbyterian Church in 2008, and the three have held a bazaar together every year to raise donations for disadvantaged youths in the district.
"First proposed by Pastor Son In-ung of the neighboring Ducksoo Presbyterian Church, the bazaar has been held 10 times so far and managed to deliver a total of 600 million won to underprivileged adolescents over the past 10 years," the official said, explaining that the event includes food trucks, street performances and a flea market.
The group also celebrates the key festival events of each other's key religion by hanging banners on their outer walls with congratulatory remarks and sending flowers on Christmas and in May for Buddha's Birthday. Early in May this year in time for Buddha's Birthday, the churches hung a banner reading "Happy Birthday Buddha" on their facades again, which brought joy and warmed the hearts of many district residents, according to a 76-year-old Buddhist who visits the temple regularly.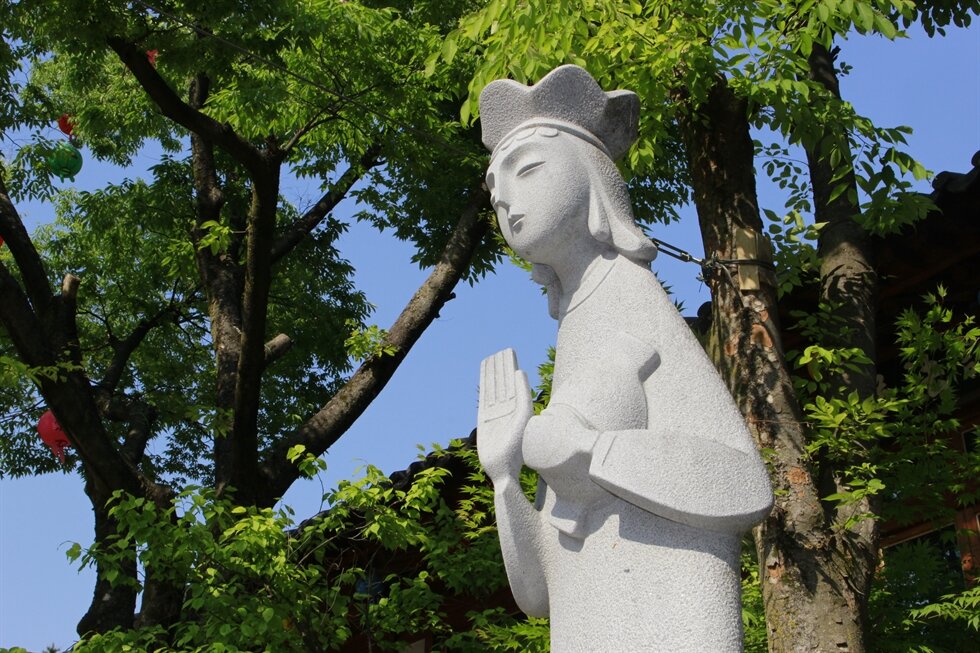 A few steps from the entrance take visitors to the temple's signature stone statue of the Buddhist Goddess of Mercy. Similar to many other statues of its kind, the female bodhisattva holds a bottle that is said to contain holy water with curative powers and wears a flower coronet on its head.
Sculptured upon the request of Ven. Beopjeong by Choi Jong-tae, the former head of the Korean Catholic Artist Association and a leading figure in Korean contemporary sculpture, the statue is a symbol of friendship and philosophical exchange among religious leaders with different beliefs in late 20th-century Korea.
A seven-story stone pagoda standing a few meters from the statue is another example of religious harmony. A senior member of the neighboring Ducksoo Presbyterian Church donated it to the temple in 2012, with hopes of prosperous exchanges amongst the three religious groups.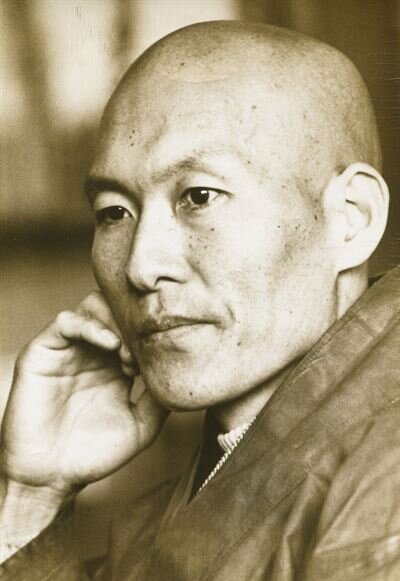 The temple started becoming a true beacon for religious harmony through a rare friendship between two towering figures in Buddhism and Catholicism, namely Ven. Beopjeong (1932-2010), a Buddhist monk well-known among Koreans for his signature teaching of non-possession, and Cardinal Stephen Kim Sou-hwan (1922-2009). Not only were they friends, but also comrades in solidarity having fought for the nation's democracy while under authoritarian governments.
The late Buddhist monk and the late cardinal were admired by the public for their shared belief that religious groups should come together to solve social problems and raise voices for the marginalized and vulnerable.
In honor of their friendship, Cardinal Kim used to hang a picture of the two greeting each other while in prayer, on the wall of his room. On Buddha's Birthday, Kim visited Gilsang Temple, established by Ven. Beopjeong, for a concert held there. The two religious leaders celebrated the occasion together under the lotus lanterns.
The cardinal even praised Ven. Beopjeong's best-known book on Buddhist philosophy, "Musoyu," which in Korean translates to "nonpossession." He said, "No matter how much this book talks about the state of nonpossession, I can't help to wish to possess this book."
When Gilsang Temple opened on Dec. 14, 1997, Ven. Beopjeong invited the cardinal and other religious figures to the opening ceremony.

Cardinal Kim delivered a congratulatory address, in which he wished for the temple to provide shelter to the weary people suffering from the economic and political turbulence of the time.

"I wish that Gilsang Temple becomes a place of resting for city people and a place of learning with pure and fragrant energy," Cardinal Kim said in his congratulatory message, referring to Ven. Beopjeong's campaign, dubbed "Malgo Hyanggiropgye," which means clear and fragrant in English. It's a campaign that was initiated by the late Buddhist monk to make the community a better place for all.
In response, the monk promised to keep the temple open for all Buddhists regardless of their different sects and welcome them anytime.
On Christmas that year, Ven. Beopjeong contributed a column in Good News, a Korean daily published by the Archdiocese of Seoul, quoting the phrase from the Bible "Blessed are the poor in spirit, for theirs is the kingdom of heaven" and delivered his message of peace.
He even held several lectures for Catholics and clergy at Myeongdong Cathedral upon the cardinal's request. The monk received a storm of applause from the Catholic audience for thanking their God for allowing him to speak at the church at the start of the lecture and explaining that people should take heed of Saint Francis' honest poverty and modesty to overcome the economic crisis at the time.
When Cardinal Kim passed away in 2009, Ven. Beopjeong wrote a letter in memoriam of their friendship.
"This world that you loved so much is still filled with conflicts, bombardment and hatred. Yet you leave your last words of whisper to all, with spring coming ahead, 'Let every life be happy. Love and love each other again,'" referring to the cardinal's last words to "Love each other."
Although the two religious leaders both passed away over a decade ago, the temple has carried on their legacy of religious harmony.